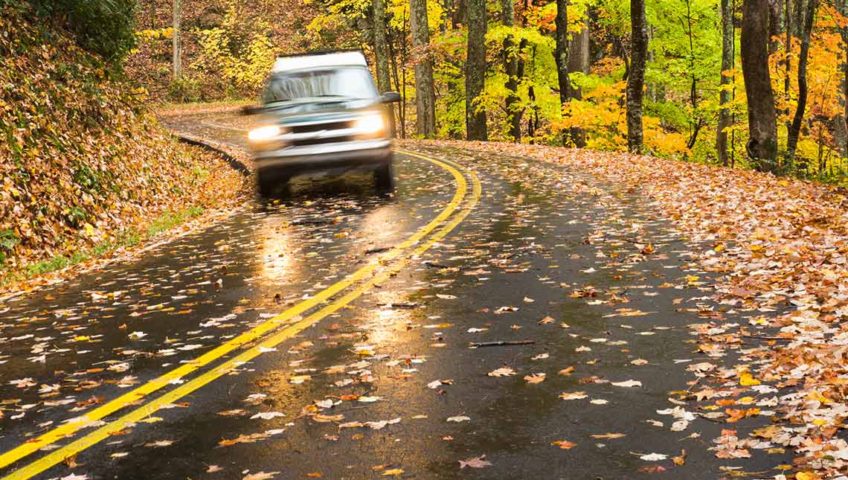 How Can You Drive More Safely in the Fall?
Most people eagerly anticipate the arrival of fall because of its colorful foliage, warm bonfires and cooler temperatures. But for many drivers across the country, autumn's appearance also means more dangerous road conditions that they must face during their daily commutes. Leaf-covered roads, back-to-school traffic and fewer daylight hours all combine to make fall driving more challenging. Fortunately, there are several reliable ways to stay safer when driving during the autumn months, starting with these.
Why is Autumn Driving Dangerous?
For starters, weather conditions in the fall can be more unpredictable. A bright, sunny day can suddenly turn cold and rainy right before your evening commute. In addition to sudden weather changes, here are some other reasons why autumn driving can be dangerous:
SLIPPERY LEAVES
Although autumn foliage is beautiful, falling leaves can cover the roads and hide pavement markers and potholes. Wet leaves are also slippery and can cause your car to start hydroplaning unexpectedly.  
HEAVIER TRAFFIC
When schools are back in session there's more traffic on the roads. That means drivers must watch for small children who are walking to and from school, or waiting at the bus stop. Fall is also harvest time, which places busy farmers operating heavy machinery onto already dangerous country roads.
ACTIVE WILDLIFE
Fall is also a busy time for deer and other wildlife to mate, migrate and forage for food. If you live near a wooded area, you already know that many animals like to cross the roads after dark.
SUN GLARE
As summer slowly fades away, the angle of the sun in the sky also changes, which oftentimes makes early morning and late afternoon glare more intense. If you're not careful, sun "blindness" can keep you from seeing oncoming vehicles or pedestrians. 
FOG AND FROST
During autumn, nighttime temperatures tend to dip below freezing, which then leaves hazardous frost on bridges and overpasses during early morning commutes. Those cooler fall mornings can also bring fog that limits your visibility and distance perception.
Safe Driving Tips for Fall
Here are some proven ways to stay safer behind the wheel during the fall season:
SLOW DOWN
Reducing your speed whenever there's fog, frost or leaves on the road is important. And, that also means obeying the posted speed limits, notably when passing through school zones or driving near school buses.
CHECK YOUR TIRES
Make sure that your tires have adequate tread to help prevent skidding on wet pavement and slippery leaves. As temperatures drop, check your tire pressure weekly and keep them properly inflated based on the manufacturer's guidelines.
WATCH FOR WILDLIFE
Hitting a deer or other large animal will seriously damage your vehicle and place you at risk. To avoid doing so, slow down while passing through wildlife areas while glancing quickly from side to side for moving animals.  
 KEEP A SAFE DISTANCE
Always stay back one car length for every 10 mph from the vehicle in front of you. Increase that interval when it's foggy or when there are leaves or frost on the pavement, as taking these precautions will give you more time to react if you need to stop. When passing slow-moving farm machinery, give them a wide berth.
CLEAR OFF YOUR WINDSHIELD
Keep your windshield clean without using products that accentuate the sun's glare. Replace your old wiper blades with fresh ones to eliminate streaking, and always scrape off any frost in the morning before hitting the road.
USE YOUR HEADLIGHTS
Make sure that your headlights work, and then turn them on whenever it's foggy, raining, or while driving between dusk and dawn. And, when driving in fog only use low beam settings so you won't blind oncoming drivers, or yourself.
Find Reliable Collision Repairs for Fall Accidents Here
Even when taking these fall driving precautions, accidents happen. When your ride gets dinged up, promptly take it to a nearby auto body or glass repair shop featured in the nationwide Carwise referral network. Once there, I-CAR and ASE-certified technicians will get started using the latest repair equipment and services to restore your vehicle like new again promptly and reliably.
Most shops listed through Carwise speak directly with insurance companies, so you don't have to, and warranty their outcomes to restore your peace of mind. And, by downloading the easy-to-navigate Carwise app to your mobile device, you can conveniently monitor your vehicle's repair progress from start to finish! To search you zip code now for a better auto body or glass repair shop in your area, please visit: www.carwise.com.